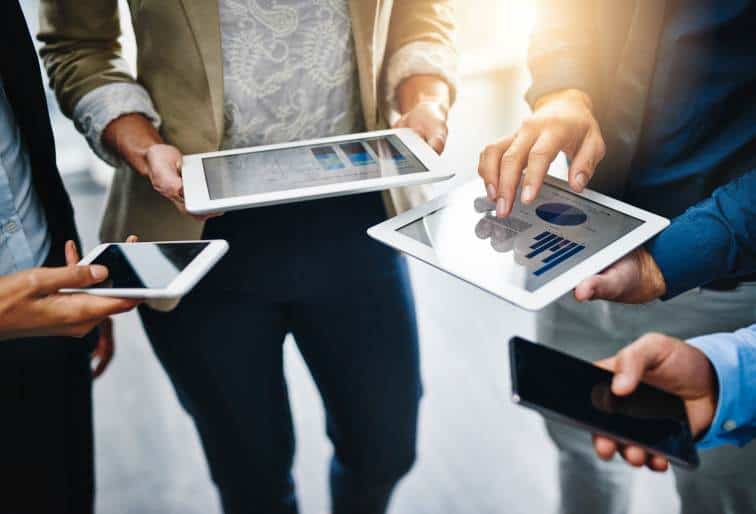 Technology is a must-have for a financial planner. Clients expect it. Plus, it will make your job easier and let your staff concentrate on more important issues.
Need more convincing? According to a Fidelity Investments survey, 53 percent of Gen X/Y millionaires say they would switch financial advisors if their advisor wasn't using technology to enhance services. And the number of millionaires in these generations is growing: 18 percent of millionaires are now Gen X/Y, compared to only eight percent in 2012.
Data from FinancialPlanning.com's annual surveys of the highest-earning advisors consistently shows that these advisors use more technology and spend more on technology to enhance their practices. They've adopted technology at twice the rate of the average advisor to create efficiencies, achieve scale and drive profitability.
So, technology can play a part in getting you into the upper echelon of advisors. No matter if you're tech-savvy or a luddite, we've got your best practices to get yourself up-and-running.
Client Relationship Management Software
A good CRM system is the heart of your business.  Every financial planner needs this in their tool box. You should use it for more than just storing client contact details. For each client, you can add relevant dates, such as their birthday, children's birthdays, anniversary, work anniversary, etc., or their favorite restaurants. Then the CRM can remind you to reach out to them before those special dates or suggest where you could dine to entice them into a meeting.
You also can add meeting notes and set follow-up reminders.
There are many to choose from including SalesForce, Wealthbox or Redtail, and the best is what works for you. Check out a few and see which you like.
Pro tip: make sure you can access the system on your smartphone, so it's accessible out of the office.
Virtual Meetings
Although a lot of business is conducted face-to-face, you want to offer the option of virtual meetings, especially for digital natives. Many people are more comfortable meeting virtually as it's an efficient use of time. No one has to drive to a meeting.
By offering virtual meetings, you may cut down on the number of prospects or clients who say they don't have time to meet. Some of the more popular video conferencing systems include FaceTime, Skype or Webex.
Pro tip: Test out the system before you call your client to ensure your microphone and camera work. Also, check out what people will see in the background and on your desk. No one wants to see a messy office, and you don't want to show proprietary client info accidentally.
Social Media
Where are your clients and prospects? Chances are they spend a lot of time on social media.
According to Social Media Today, the average person spends two hours per day on social media – and that's only expected to grow.
You should have a social media presence on the most-used platforms: Facebook, LinkedIn, and Instagram. Depending on your target market, you may want to add Instagram, SnapChat, Twitter or Pinterest.
Yes, it's time-consuming, but there are tools such as HootSuite, Sendible, and Hubspot which can help you manage your accounts by scheduling posts in advance. Also, if you have a social media savvy assistant, this could be the perfect task to delegate.
Pro Tip: Be sure to analyze the data generated by your posts to see which topics performed best, what times posts do best and which channels are giving you the best bang for your buck. Every financial planner has to get a strong social media presence.
Strong Online Presence
It's a given: prospects will Google you. Make sure the citation received for underage drinking at a college football game or a photo of you dressed as a clown aren't the first things Google shows them.
You have to own your online presence, and the first thing to accomplish that is a search-engine optimized professional website. A Facebook page or your LinkedIn profile won't suffice.
There are plenty of options for building your website, but remember that every minute spent doing something other than prospecting or meeting with clients is lost money. Plus, Google frequently changes its search engine algorithms, making it impossible for all but the most dedicated to keeping up. It's better to higher a pro who is an SEO guru and is marketing savvy (not your second cousin's kid who likes to play with computers).
Be sure your website is mobile friendly, use a professional photo and pay particular attention to the "About Me." section as it's been shown to be one of the most-read pages on any website.
Pro Tip: Different search engines show different results. Do an online search for yourself and have friends do the same using different browsers to make sure your website and social media presence show up first.
Tablet Computer
Ever been meeting with a salesperson and they're using a huge CPU or a gray-screened monitor using a Terminal typeface? You immediately lose respect for the company and the salesperson and wonder if they're the right company for your business.
Don't let that be you.
You want to appear tech-savvy, and a sleek tablet will enhance that image. You should be able to load your modeling software and marketing materials onto the tablet so you can show clients a complete financial forecast.
Plus, you'll be able to access your CRM and add any notes right after a meeting before you forget.
Pro Tip: Spring for the mobile coverage so you don't have to access a client's WiFi and ask for their password.
Article by JL Watson. JL Watson has been a business writer for over 20 years, covering investing, personal finance, entrepreneurship, leadership and careers for Dow Jones Newswires, Forbes, and corporate clients, including New York Life Insurance and Blue Ocean Brain.  She also writes memoirs and teaches memoir writing. Her website is www.nomorecrappycontent.com and she can be reached at julie.watson@gmail.com