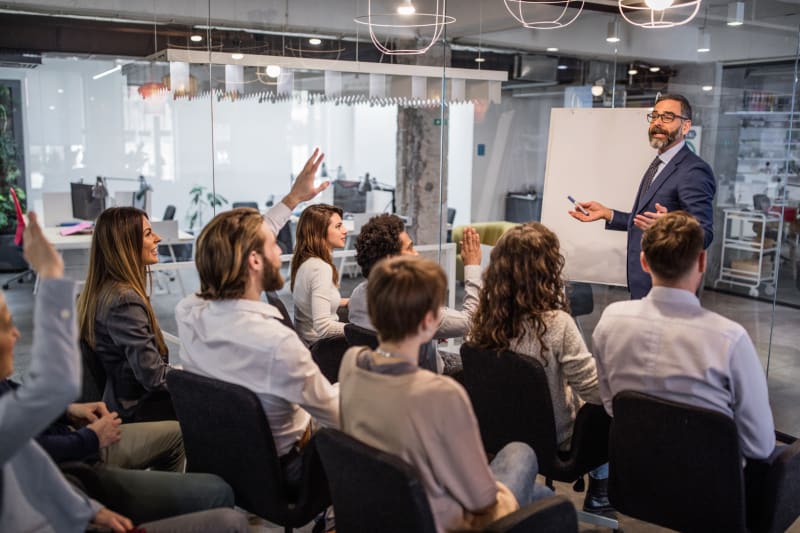 Investment advisors have one of the greatest jobs in the world: making money for clients. As clients make money, their advisors build wealth right alongside them. The work provides intellectual challenge and the excitement of building a good reputation and prosperous business.
Despite the lucrative opportunities financial advisors enjoy, few young people enter the business. As a result, 35 percent of financial advisors are expected to retire within 10 years. For those interested to enter the financial advising industry, the timing couldn't be better. Clients need financial advisors, and many advancement opportunities will open up in the coming years.
Definition of an investment advisor
An investment advisor can be an individual or group that makes securities recommendations or performs securities analysis for a fee. Some investment advisors work with in-house analysts who provide buy, sell and hold recommendations for equity and debt securities. Other advisors work independently and cull research from multiple sources.
In addition, many financial advisors help clients answer important financial questions, such as whether to pay off a mortgage or how much to save toward their children's education. Financial advisors devote much of their practice to retirement planning. They also advise on annuities of all types, insurance coverage and meeting specific financial goals, such as saving to start a business or to travel the world.
Financial advisors work for clients as fiduciaries, which means they are duty bound to serve their clients' best interests. Most states require financial advisors to register, and all advisors or advisory firms with over $100 million of assets under management must register with the SEC, which provides them with the Registered Financial Advisor credential.
Many financial advisors provide their services on a flat-fee basis, while others earn a percentage of the money under management. Many clients prefer the percentage of assets compensation plan because they think that the financial advisor has more motivation to increase their account values. Some advisors earn commissions on the financial products they sell to clients, while others charge hourly. Regardless of the compensation structure, the fiduciary duty always applies.
Career trajectory for investment advisors
Education
Financial advisors must have a four-year degree in finance, economics, statistics or a related field. Some firms require a Master of Business Administration, which can be earned while working in a related position at the firm.
Testing and experience
In most states, financial advisors must pass a Series 65 exam. In some states, the Certified Financial Planner (CFP) test can take the place of a Series 65. The series 65 exam includes the following subjects:
Law
Regulation
Ethics
Retirement planning.
Portfolio management.
Fiduciary responsibility.
In addition, many financial advisors sit for the following exams:
Series 3: National commodities futures.
Series 7: General securities.
Series 63: Uniform securities agent.
The CFP designation requires candidates to complete 6,000 hours (about two years) of investment advisory experience. Many financial advisors opt to take the Series 65, complete the industry experience requirement and then take the CFP. Those who skip the Series 65 and sit for the CFP exam only must complete the experience requirement under the supervision of a mentor financial advisor or sponsoring firm. CFP candidates must complete coursework prior to taking the exam.
Many financial advisors also take exams for the Certified Financial Analyst (CFA) and Chartered Financial Consultant designations.
Financial advisory professionals consider the CFA the most prestigious designation. Four or more years of experience must be completed before one becomes eligible to take the three compulsory exams, which all require 300 hours of preparation. Candidates also must submit letters of recommendation.
Experienced financial advisors often opt to start their own firms. Others seek management roles in larger organizations. Senior level positions include the following:
Specialist advisor.
Portfolio manager.
Branch sales manager.
Regional sales manager.
National sales manager.
Marketing manager.
Recruiting trends for investment advisors
In today's tight labor market, all industries must recruit aggressively. The financial advising business, in particular, must focus extra effort on recruiting. The financial crisis of 2008 scares many people away from the investment advisory business. They fear another financial crisis might affect them negatively.
However, the market has changed drastically since 2008. It has become much more stable and better regulated. Making young talent see financial advising as a solid career choice drives many recruitment programs. Recruiters often seek talent by working with local universities. Professor recommendations and career fairs have proved effective. Many firms report success with LinkedIn and even draw recruits from their customer bases.
In addition, recruiting trends call for a more millennial-focused environment. The younger generation favors corporate cultures that emphasize work-life balance, open office spaces and social consciousness.
Financial advising provides an important social service. By helping clients achieve goals, such as saving for a home or an education, financial advisors help America advance, both economically and socially. Working as a financial advisor provides a lucrative, challenging and fun experience for the right people. With strong recruiting efforts by financial firms, the next generation of financial advisors will be lining up to take their Series 65s and CFPs.