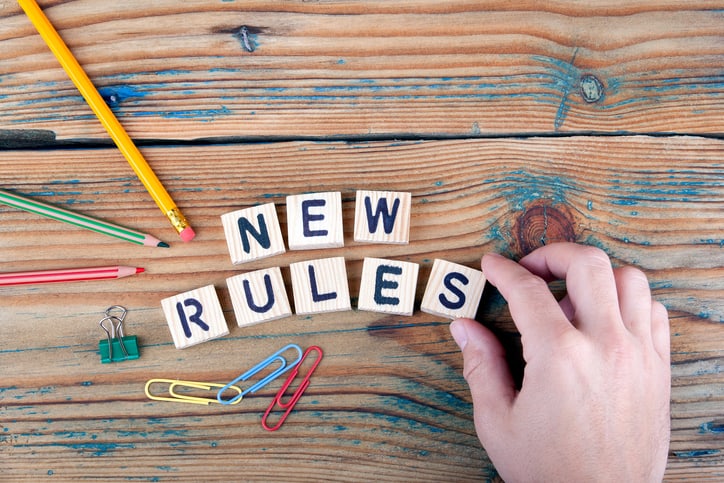 Following in the footsteps of millions of average, everyday people worldwide, FINRA sets its expectations and priorities for the year ahead at the beginning of January each year, their "resolutions" coming in the form of an annual Regulatory and Examination Priorities Letter.
Among the pronouncements in this epistle that consolidates critical information highlighting where firms and advisors should focus their compliance efforts, as well as what they should expect to be tested on, FINRA outlines the rules that will be going into effect over the course of the coming year.
FINRA's 2018 Letter elucidates six rules that we'll discuss below. Of these rules, four have already gone into practice, while the remaining two will take effect later in 2018. Regardless of their current status, fluency in all of these rules is recommended in preparation for the FINRA exams.
New FINRA Rules for 2018
Financial Exploitation of Specified Adults (Effective February 5, 2018) – Rule 2165 is designed to protect seniors and persons 18 and older with mental or physical disabilities, this rule provides firms with a mechanism for levying short-term holds of up to 15 days on customers' accounts when financial exploitation is suspected.
Amendments to Customer Account Information (Effective February 5, 2018) – These amendments to Rule 4512 go hand-in-hand with new Rule 2165 with the goal of shoring up financial safety for elderly and disabled Americans. The changes mandate that firms must "make reasonable efforts" to ensure that each customer's account has the name and contact information for a "trusted contact," with the only requirement being that said person is over 18 years old.
FinCEN's Customer Due Diligence Rule (Effective May 11, 2018) – This spring marked the final deadline for this rule, put into motion in March of 2016 and designed to help financial entities and law enforcement agencies work together better in identifying the illegal flow of money.
Amendments to Customer Confirmations (Effective May 14, 2018) – These amendments require broker-dealers to provide retail customers with more extensive information related to particular narrowly-defined transactions pertaining to municipal and corporate bonds and fixed income securities. These amendments set a very specific system in place to provide increased transparency for retail customers.
Amendments to Margin Requirements for Covered Agency Transactions (originally scheduled to become effective June 25, 2018, now delayed to March 25, 2019) – Also identified as Amendments to FINRA rule 4210, these requirements cover To Be Announced (TBA) transactions, including Adjustable Rate Mortgages (ARMs); Specified Pool Transactions; and transactions in Collateralized Mortgage Obligations. Designed with the intent to mitigate risk within the specified set of transactions, these amendments have proven to be an especially heavy lift for the industry – thus the delay in implementation. FINRA, in delaying the rule changes, noted that it will be considering potential revisions to the requirements.
Consolidated FINRA Registration Rules (Effective October 1, 2018) – As announced by FINRA, these rules "streamline, and bring consistency and uniformity to the qualification and registration requirements." Notably, after the effective date, unregistered persons will not be allowed to accept customer orders, and firms will be required to register a Principal Financial Officer and a Principal Operations Officer. Several additional classifications for the registration of principals are established, and several are eliminated. These rules also set up systems for advisors to move back and forth between FINRA member firms and non-U.S. financial services firms without the burden of continually having to re-take exams to qualify. Finally, redundancies in the qualifying examinations themselves are eliminated.
These rules, as well as risks brought to light in recent months, drive regulators' exam priorities. Both the SEC and FINRA are driven by the mission to safeguard the investor population, as well as the firms they regulate, and the stability of the market overall. The exams are one tool that these regulators have to uncover issues that may jeopardize these principles.
A thorough review of these rules is necessary before taking an exam. Additionally, any exam prep should also include a review of FINRA's areas of concern for 2018: Retail investors, cybersecurity, and anti-money laundering, the areas of focus the organization pinpointed in their 2018 Letter.
If you're looking for a clear and engaging way to prepare for your FINRA or SEC exams, the Securities Training Corporation can help you navigate your way through these changes and achieve better results. We welcome the opportunity to talk with you about our classes and products. As the #1 provider of securities training in the United States, we've trained more than a million of your peers.
Our pass rates are 15-20% higher than the national average, and we pride ourselves in assisting both financial and insurance professionals with passing their exams on the first attempt. It would be our privilege to aid you in your preparations for your exams. We look forward to hearing from you today.