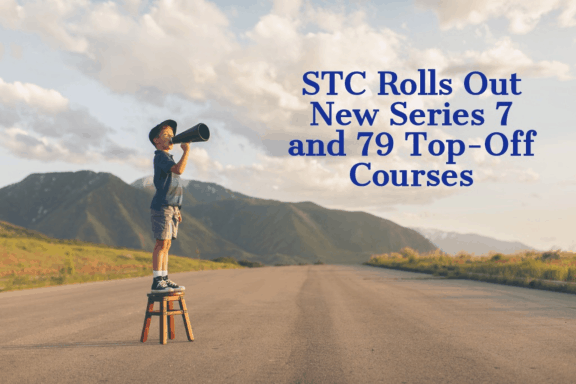 NEW YORK, NY – (September XX, 2018) — Securities Training Corporation (STC), the market leader in securities training, announced that the company's FINRA Exam prep Series 7 and Series 79 top-off courses are available for purchase.
The learner-centric SIE Series 7 and Series 79 top-off course materials apply best practices in instructional design, adult learning theory, and graphic design to create an interactive and memorable experience, all while keeping in mind multiple audiences for the courses, from employees to recruits, including interns, college students, and career changers.
"Our top-off courses are designed to meet the visual, cognitive and practical needs of today's learner and provide a strong foundation for learning that sticks," said Paul Skordilis, President of STC. "With the upcoming SIE Exam becoming available on October 1st, our goal is to help introduce candidates to the SIE Exam and top-off exams so they can pass and enter the securities industry."
The SIE Exam is a new, introductory-level FINRA exam for current non-registered staff members and prospective securities industries professionals who are not associated with a brokerage firm as well as individuals pursuing careers in the financial service industry. The SIE Exam, which is a prerequisite to working within the financial services industry, assesses a candidate's basic knowledge of securities industry topics. Earlier this summer, STC announced its Securities Industry Essentials (SIE) exam training package and pricing.
For the new top-off courses, STC will offer three packages including Standard, Premier, and Premier Plus. STC's Premier study package will provide students with the following:
Exam Center

STC's On-Demand Lectures, Progress Exams, Greenlight Exams, Custom Exams, and Final Exams, are all available for students to test their knowledge through multiple exam options.
Online Flashcards

This tool allows students to test their knowledge and focus on areas of weakness to ensure they pass their exam. Students can organize by Course, Chapter, or FINRA Exam sections. This study tool allows students to test themselves (internet access required).
Crunch Time Facts

The Crunch Time Facts are a summary of all the "must-know" facts by chapter from STC's Study Manual.
Additionally, STC's Premier package includes an online and printed Study Manual, updates for one year, 24/7 tech support and an instructor hotline.
"We are committed to the best prep and fastest learning in the industry and will continue an aggressive release schedule with our next courses. STC plans to shortly release our Series 6, Series 52, Series 57 and Series 99 top-off courses," said Skordilis.
Download Sample Series 7 Top-Off Materials