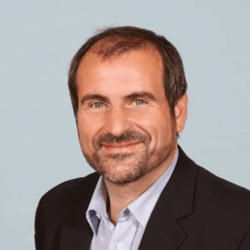 Securities Training Corporation (STC), a financial training company, today announced the appointment of Paul Skordilis as President and General Manager. Mr. Skordilis is the third individual to lead STC since its founding in 1969, following the retirement of former CEO Paul Weisman who led the company as President and CEO for 25 years.
Mr. Skordilis brings to STC more than 25 years of leadership experience and a proven track record of driving strategy, revenue growth, corporate development and operational excellence. Most recently Mr. Skordilis was responsible for implementing the sales, marketing and vertical strategy at Infogix, a data management and analytics company. Prior to Infogix, Paul held various executive roles at companies such as StoneRiver, Oracle, McAfee, Insurance Technologies and Computer Associates. His consultative approach to understanding customer pain points and implementing valuable solutions will further propel STC as the leader in financial and securities exam prep solutions for the Financial Services industry.
Paul is an expert in optimizing and developing effective processes and programs that drive sales, marketing, and business development initiatives through an integrated multi-channel strategy. His peers and colleagues value his ability to motivate employees to deliver value to customers and other stakeholders.
"It's a privilege to bring Paul on board to lead such a talented team here at STC," said Mike Duran, CEO of Colibri Group, the parent company of STC. "His leadership and experience are the perfect combination of skill and vision to lead STC's continued innovation."
ABOUT SECURITIES TRAINING CORPORATION
Founded on Wall Street in 1969, Securities Training Corporation (STC) has successfully helped over 1,000,000 professionals pass FINRA regulatory exams and launch their careers. STC has grown to become the leading provider of financial examination training, working with the top banks and broker dealers in America to offer FINRA exam courses like Series 6, Series 7, Series 24, Series 79, and Securities Industry Essentials (SIE) (coming October 2018) in addition to firm element, regulatory element, and Life, Health and Accident pre-licensing courses. STC is committed to providing a superior customer experience and innovative product offerings. Learn more at http://www.stcusa.com.
ABOUT COLIBRI GROUP
Colibri Group provides learning solutions to licensed professionals who strive to be among the best in their fields. Through six leading brands — McKissock, Real Estate Express, Superior School of Real Estate, The Institute for Luxury Home Marketing, Elite Professional Education, and Securities Training Corporation — the company serves more than one million professionals annually across real estate, healthcare, and financial services industries, among others. The company's learning solutions give working professionals a competitive edge by combining up-to-date information, practical on-the-job application, and convenient online accessibility.
http://www.prweb.com/releases/2018/01/prweb15086061.htm?__hssc=94114754.27.1525291299884&__hstc=94114754.77a938ffed238516e658d17b98df82df.1524169063394.1524664532580.1525291299884.4&__hsfp=3596018192&hsCtaTracking=578e66af-317f-4b51-9e78-0a680c684a9a%7C4f307cd0-a79b-4046-bf4d-e0bae108025f