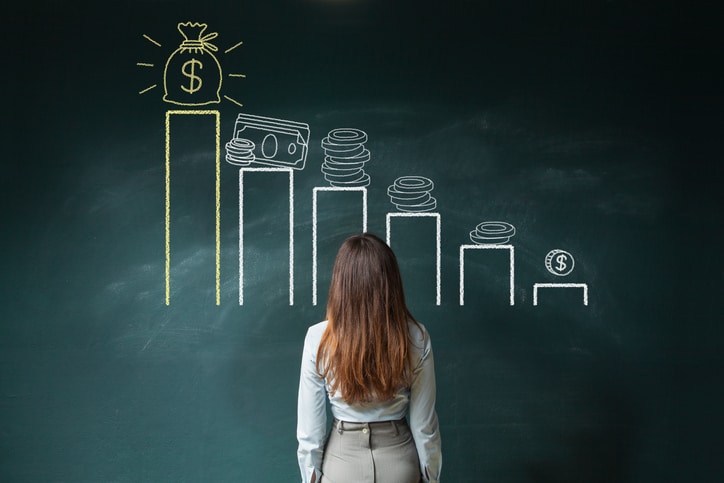 One of the things financial advisors have to consider when starting their career is their salary.  They want a position that covers all the bills with some left over for investments and savings, one that provides them with enough money so they can enjoy life.  This is often one of their most important considerations, amongst others.  Fortunately, there are a variety of paths they can take.
Below are listed the financial advisor salaries by firm so an informed decision can be made.
Brokerage Houses
Financial advisors in the big brokerage houses like Merrill Lynch and Morgan Stanley can earn anywhere from $60K to $200K.  Top producers who've been at their company for a while can earn over $1 million.  Commissions and performance based bonuses are awarded.  This is an extremely competitive environment with high turnover, where advisors have to fend for themselves.
Banks
Financial advisors in banks earn approximately $42,000 to 82,000 per year.  Their pay ranges from salary and commission to commission only.  Where there is a salary, it is only for the first few years.  After that, advisor's pay is based on commission and bonuses only.  Customer referrals from the bank help to reduce stress and add to the advisor's client base.
Credit Unions
Because the mission of credit unions is to serve the customer, financial advisors in credit unions will have an easier time in gaining customer trust and this will help them build their business.  Some credit unions offer a base salary that the advisor can fall back on when business stagnates.  Their salary ranges from approximately $47K to $116K, depending on the credit union they're working for.
Insurance companies
Financial advisors in insurance companies sell insurance products to their customers.  They work on commission, but may also have a base salary while they build their business.  They can earn anywhere from approximately $37K to $79K.  Cold calling is a common practice within these companies to build a book of business.
Small firms
Financial advisors in small firms have more time to devote to their clients because the advisor can limit the number of clients he/she works with.  More training is usually provided at these firms.  Advisor salary depends on the size of the company and whether there are bonuses, so no range could be obtained.  There is no salary information for financial advisors at small firms available at this time, as agencies couldn't be reached for comment.
Self-employed
Financial advisors who are self-employed have an average annual salary of approximately $144,000.  However, it will take a lot of time and hard work to get to this level.  They usually bring some business with them from a previous job, but their beginning pay may be at about $49K.  Because it is their own business, they have to be aggressive marketers by asking for referrals and becoming known in the community by doing things like giving speeches and joining clubs.
Financial advisor within a company
Financial advisors within a company have an existing employee clientele who tend to be more trusting because their advisor has been hired through the company.  They will have a book of business no matter what the economy is doing.  The average salary for a financial advisor within a company is approximately $62,000.
Financial Advisor Manager
Given that a bachelor's degree and a few years of experience as a financial advisor are required for this position, you can expect higher pay.  You can earn anywhere from $52 to $86K at an investment firm in this position.  Good management skills are required for this position.  They can be obtained through mentoring, experience and an advanced degree.
Making Your Decision
Know the salary range that is acceptable before interviewing.  Ask for the highest salary first if you know the firm is interested in you.  Know the goals of the company and be able to share how your past accomplishments can add value to them.  If the company doesn't quite offer the required salary but their mission is attractive, try to negotiate other perks like vacation, family leave or flexible hours.  While salary should be a top priority, fit should also be considered.  Prospective employees should make sure they are getting the money they want in a culture they will feel comfortable in.  This can all be discussed during the interviewing process, along with using online reviews as a backup.
While salary requirement is a very important decision and should be studied with great care, an advisor also must be a good fit for the company in order to flourish in their career.
Iris Manning is a freelance business writer with expertise in corporate and private sector businesses. She earned her MBA from Northeastern University and studied journalism at Boston University. She contributes business content to the Boston Business Journal and the Colibri Group.  She has also written for Fundbox's blog, the Worcester Gazette, and beingpatient.com.