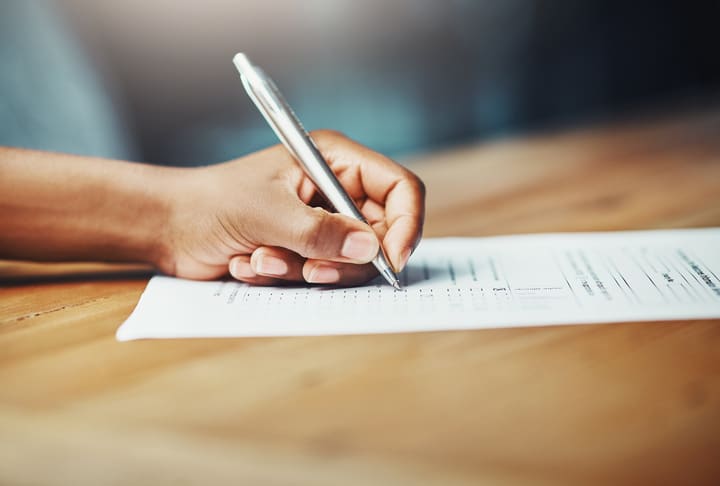 Imagine two college students who plan financial services careers. Both decide to take the Securities Industry Essentials (SIE) exam/ test before graduating to become more attractive job candidates for potential employers.
To do their best on the exam, they both hire test prep firms. Santiago receives a wide berth and learns a variety of subjects, many of which won't be on the SIE exam. Lucia is taught strictly the test material.
When exam day comes, Santiago worries as he tries to keep track of everything he's learned. Lucia is calm and collected, knowing she was only taught the exam material.
Who do you think did better on the exam?
Lucia's instructor used a method called "teaching to the test." Such methods have been controversial in K-12 education as the curriculum focuses on what will be on a state standardized test thereby boosting scores, but not giving students a holistic education.
However, for test prep, teaching to the exam is the preferred method because of its laser focus on exactly what you need to succeed. Check out these benefits, some that even go beyond the test itself:
Prep Work for a Career
Throughout our career, we'll be tested and evaluated through specific performance goals and job duties.  Teaching to the test puts students on the right road preparing for the work world.
Assistance with Goal Setting
Passing a test is one of the first goals we often have in life.  When we want something, we're more likely to achieve high marks. Teaching to the exam helps you achieve your goal of passing. So set a goal to pass your financial services exams and remind yourself of that goal every morning.
Teaching Hard Work and Learning
Throughout a person's career, they need to perform rote and possibly boring tasks. Testing and studying could be put into those categories. In addition to passing the test and letting you move forward in your career, these types of tasks set you up to work hard and continue the habit of learning.
Separating the Good from the Bad
When a student is taught only exam materials, the student's results on the exam effectively measures how good of a job the instructor did. The data can be used to make sure you're hiring a successful test prep company.
Focusing on One Thing at a Time
Learn best by memorizing ideas and concepts? Try teaching to the test. With a singular focus, this method presents information in the simplest, easiest way to remember and help you succeed in passing a test. Does that mean it's boring? No. Every instructor has his/her own unique way of helping students learn, but they will focus on getting you to the finish line of passing your exam.
Learn more about the great features of our SIE Program sign up for a demo.
Article by JL Watson. JL Watson has been a business writer for over 20 years, covering investing, personal finance, entrepreneurship, leadership and careers for Dow Jones Newswires, Forbes, and corporate clients, including New York Life Insurance and Blue Ocean Brain.  She also writes memoirs and teaches memoir writing. Her website is www.nomorecrappycontent.com and she can be reached at julie.watson@gmail.com