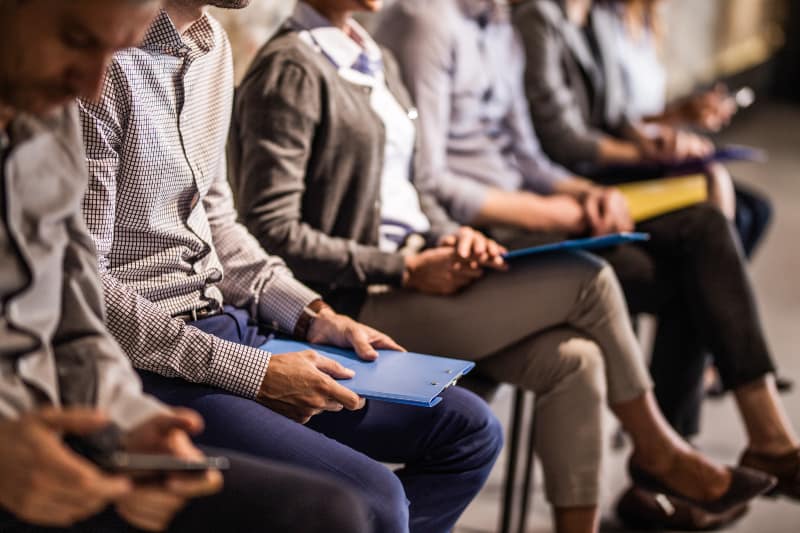 Recruiting top talent in the financial services industry has become a challenge in today's tight job market. To attract the right candidates, financial services companies need to think beyond salary.
Work-life balance, professional satisfaction and a sense of mission are on the minds of today's workers. In the financial services sector, providing these intangibles can be difficult because the industry is moving quickly and requires long hours. However, it's possible to overcome recruiting issues by creating a strong interviewing and onboarding process that identifies and addresses candidate concerns.
The value of strong interviewing protocols
In financial services, it's important to ascertain if the candidate has the physical, psychological and emotional makeup to handle the long hours, stress and heavy time pressure. Being prepared to discuss the challenges of working in the industry allows managers to get a feel for candidates' motivation level and ability to overcome obstacles.
Questions about the candidate's background and interests may reveal their capacity to work effectively under pressure. Hiring managers can discern which candidates have the right knowledge, skills and personality traits to succeed by following strong interviewing protocols, such as those developed by Robert Half International.
Robert Half International employs interviewing best practices that efficiently zero in on the most important factors in hiring decisions. The company believes strongly in interview preparation. Managers can only afford to spend so much time interviewing candidates.
Preparation
Without preparation, key areas of discussion are often cut short. Lack of preparation also affects the candidate experience, giving job seekers the impression that the manager and company are disorganized, which harms the organization's employer brand.
Deciding who conducts the interview at each stage is also an important part of preparation. Robert Half has the hiring manager conduct the initial one-on-one interview. This helps the manager narrow the field to a few choice candidates, who get invited for a second interview, where more senior staff may participate.
When conducting the first interview, Robert Half's interview protocol calls for starting with a review of the job description and hiring criteria. Interviewers then review materials submitted by the candidate, including the resume, cover letter and online profile. Preparation for this part of the interview allows the hiring team to clarify exactly what they need to establish to make a good hiring decision.
Interview questions
Robert Half's protocol calls for interviewers to mix up the interview question types, such as behavioral/problem-solving, motivation and skill-based questions. Open-ended questions are emphasized because they require more thought and allow candidates to respond more openly. Two or three hypothetical questions are asked, and an off-the-wall question may be tossed in to demonstrate how the candidate thinks on his or her feet.
The onboarding imperative
Twenty-five percent of new employees quit or are terminated within the first 90 days, according to Social Talent. Structured onboarding programs help, reducing turnover by 58%. To achieve this result, onboarding programs should consist of a plan covering the time from offer acceptance through the first 90 days on the job.
Social Talent also found that 54% of new employees report a significant error by their new employers during the onboarding process. Issues include not receiving needed technology, introductions to coworkers or overviews of company policies. It's critical to create a checklist of items that must be completed before new employees start.
Onboarding best practices
On the first day, it's a good idea to have new employees arrive a little later than the regular starting time. This allows staff to get other work done and prepare for onboarding activities. A checklist of items needs to be completed on day one, including introductions to coworkers and meetings between new employees and their managers.
Turnover in the first 90 days can be reduced by having new employees shadow each department. Managers should check in with them regularly and ask for their feedback.
Retention requires more than a paycheck
In the financial industry, long hours and high paychecks are the norm. Creating a work-life balance program and encouraging employees to keep themselves fit, healthy and connected to family reduces incentives to leave and boosts productivity.
Professional satisfaction often comes down to a sense of accomplishment, enthusiasm for the job and recognition. Organizations that create environments where professional satisfaction is the norm benefit from a self-motivated workforce.
As more millennials enter the financial industry, recruiting and retention has become far more important. Retaining millennial financial services employees requires creating a work environment where employees feel they belong for the long haul.
Burnout remains a persistent problem in high-stress occupations with long hours. By addressing burnout during the hiring process – creating an efficient onboarding system and energizing work environment- financial services firms can avoid becoming a "churn-and-burn" workplace.
Securities exams training helps onboarding and retention
Securities exams are an important topic during interviews and an integral part of the onboarding process and retention efforts. Get your new employees off on the right foot by providing the securities exam training and support they need.
Visit Securities Training Corporation's website to discover why 3,500 corporate clients worldwide trust STC to prepare their employees for licensing exams and a career in financial services.