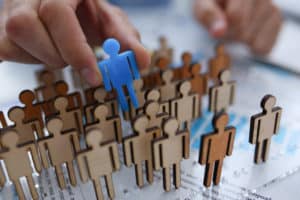 In recent years, it's been challenging for recruiters in the FinServ industry to find qualified and talented financial advisor professionals due to a severe shortage of candidates. Furthermore, the industry is predicted to grow 7% from 2018 to 2028, which the U.S. Bureau of Labor Statistics indicates is "faster than average" for all occupations. As a result, FinServ recruiters might find it hard to identify top talent for open financial advisor positions.
To place your clients with an organization that's a good fit, broaden your reach by integrating virtual resources that help you match the right candidate with the right firm.
FinServ recruiters will need to pivot
Legacy applicant-tracking systems and human resource management software were designed for in-person recruiting. In a post-COVID-19 world, chances are you'll find it much harder to rely on these tools than you have in the past.
Like other types of processes that have pivoted to new digital solutions during the pandemic, you'll need to pivot too. However, by identifying good virtual resources, you'll strengthen your ability to find a perfect fit for both your client and the firm.
Use a variety of recruiting tactics
Finding good candidates online will take some work, but with the help of these traditional and newer approaches to identify the right financial professionals, you can achieve success:
Tailor job descriptions carefully for use as a primary marketing tool. A well-phrased job description goes a long way toward attracting candidates who want to work at the firm you're trying to staff.
Rely on firm branding to appeal to candidates. It will help you narrow down those who are a good cultural fit for the firms filling advisor roles.
Use programmatic job advertising. This digital tool harnesses the power of artificial intelligence and integrates it with A/B testing to determine what advertising methods are effective. It also broadens advertising across the web rather than on specific websites.
Be active on social media to engage with prospective candidates (both active and passive) and build a pipeline of talent to fill positions now or down the road.
Post open positions on both general (think Monster, Indeed, CareerBuilder) and financial job boards. Additionally, use LinkedIn recruiting tools to list jobs and help identify potential talent.
Explore virtual college recruiting events and events sponsored by alumni associations. Build relationships with these organizations to obtain steady referrals.
Connect virtually with financial advisor professional associations to meet candidates who are actively or passively looking for jobs.
A variety of online recruiting methods can go a long way toward helping you fill positions. Remember, the more engaging your recruiting efforts are, the more success you'll have.
Finding the perfect fit using online tools
What's a perfect fit? It's a candidate with the specialized skill sets, qualifications, licensing and certifications, work values, and ability to handle the pace and stress often found in the financial sector. To help identify the right candidates:
* Hold virtual interviews on Skype, Zoom, Microsoft Teams or another similar tool.
* Conduct virtual behavioral interviews that ask unusual questions to see how a candidate would field different situations.
* Carefully watch body language and observe the candidate's physical background (books, photos, artwork, clutter, etc.) during virtual interviews to better ascertain their personality.
* Run background and reference checks using virtual tools.
Essentially, you'll want to dig deeper than "canned' interview questions because it's a lot harder to gauge someone's personality online than it is while conducting traditional interviews.
Virtual tools to offer positions
The longer it takes recruiters to place clients, the more costly it gets. The virtual tools above can help you extend your reach and reduce these extra expenses. You'll also eliminate frustrations for both the client and the firm because position vacancy times will be significantly reduced. Once you find the "perfect fit," be sure to contact them as soon as possible. Fortunately, the process of contacting the chosen candidate has largely been digital for some time. Utilize phone calls and email to get in touch with the candidate, and be sure to direct them towards the next steps and any additional resources so that they can get started right away.
Virtual onboarding
In a virtual onboarding situation, it can be harder for a new employee to adapt. They don't have the advantage of in-person experiences. As such, you'll want to provide the extra support they need to ensure they clearly understand their role and the firm's procedures:
* Provide a digital employee handbook.
* Gain access to all digital resources needed to succeed.
* Plan a virtual "welcome" session with the entire team.Include individual introductions with colleagues they'll be directly working with. Set aside some time for the client to speak directly with their supervisor. This will provide a great opportunity for them to ask any questions.
* Schedule virtual check-ins on a regular basis to make sure they're acclimating.
Everyone has had to adapt during the COVID-19 pandemic, and many of these adjustments will remain going forward. Remote recruiting is here to stay.
Securities Training Corporation has been offering qualified education training and licensing preparation for financial professionals for almost 50 years. Our pass rates are among the highest in the industry. We help ensure that professionals pass their required exams and already licensed individuals keep their credentials. To learn more about our programs, contact us today.